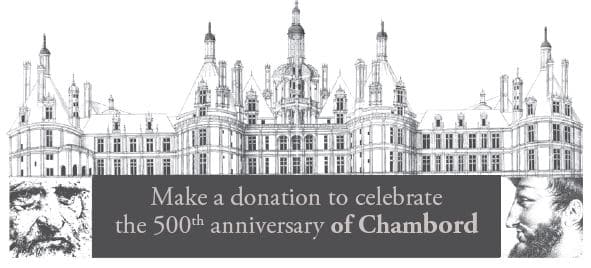 « Contrarily to the hand-me-down idea of a hunting lodge, Chambord was initially conceived and
designed as an ideal city, consisting in not just the monument, but the estate in its entirety. At heart,
the project we are conducting today epitomizes the idea of utopia at work.»
Jean d'Haussonville, managing director
The year 2019 will be marked by the half-millennium of the outset of construction, in 1519, of the most eminent Renaissance castle in the world.
Included in 1840 along with the Louvre and Versailles in the first official list of historic monuments in France and in the UNESCO World Heritage List, Chambord is the most mysterious of the royal palaces; just think of its unique display of false symmetry and multiplication of unknown factors. How is such an enigmatic monument to be reinterpreted in the 21st century? How is such a huge and ancient estate to be adequately conserved? Five centuries after the commencement of its building, these questions echo one another.
Indeed, 500 years later, Chambord continues to inspire admiration and fascination. At a time when attendance and self-funding for the National Estate of Chambord are on the rise, new projects must be launched so that the visitor be given the opportunity to behold a radically transformed and magnified Chambord.
The objective of this anniversary is to provide keys to reading Chambord as it was thought out by its founder, François I, and its inspiring architect, Leonardo da Vinci. More concretely, its purpose is to bring back to life the desire and vision of an illustrious royal builder by making visible the original (construction-related) material and (symbol-filled) immaterial matrix of the monument in the framework of a large-scale restoration program associated with an exhibition retracing the genesis of Chambord.
Become a sponsor make your entrance into History!