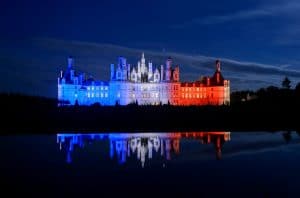 Chambord sponsorship
Why support us?
Chambord is a chateau like no other. Exploring Chambord will take you to a different world, a world full of mysteries that will immerse you in the marvels of the French Renaissance. Supporting Chambord through your donation will help to preserve and develop the remarkable feat of engineering created by Francis Ist.
Tax advantages:
To American donors: Donations made from the United States have to be made through the King Baudouin Foundation United States, in order to allow the donor to benefit from the American tax law. The amount gifted is free.
To European donors: The Transnational Giving Europe system allows making a donation in an other European country. The donor can benefit from his own country of origin's tax relief legislation. The amount gifted is free.
The countries include: Germany, Belgium, Bulgaria, Estonia, Croatia, Spain, Hungary, Greece, Ireland, Italy, Luxembourg, Romania, Great Britain, the Netherlands, Portugal, Greece, Austria, Poland, Slovakia, Slovenia, and Switzerland.
Other advantages:
As you become patron of Chambord, you can benefit from several advantages, such as invitations to private events at Chambord, the engraving of your name, or the name of your company, on the Patron's Great Wall at the castle's main entrance and other advantages determined by mutual agreements.