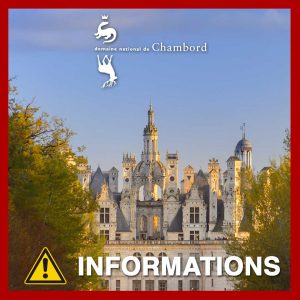 Since May 11th, 1000 hectares and the signposted paths of the Grande Promenade are once again accessible to all. Payment for the car parks is made by credit card at the terminals provided for this purpose. No free parking will be granted due to the compulsory closure of the reception points. By your visit, you are contributing to the preservation and maintenance of the estate, which is a World Heritage Site. Thank you for respecting the health safety standards in force during your visit. We thank you for your understanding. Enjoy your visit.
Due to health precautions, the castle is completely closed to the public, all public activities and events are suspended and cancelled. If you have booked a service for this period, you can obtain information by contacting our complaints department: reclamations@chambord.org.
You can continue to book your tickets.
Tickets for the castle tour and the Histopad are valid until 31 December 2020.
[ Daily update on our social networks ]
If the situation should change, official and accurate information will be disseminated on our social networks, which you can find listed below.
Facebook: https://www.facebook.com/lechateaudechambord/
Twitter: https://twitter.com/domainechambord
Instagram: https://www.instagram.com/chateaudechambord/
Thank you all for your kindness.