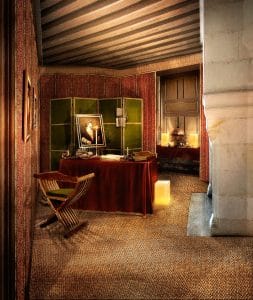 It will be the only representation of a period when the court was on permanent travel.
After the restoration of its French gardens in 2017, Chambord intends to recreate the atmosphere that prevailed inside the castle at the time of Francis I. The restitution of the mobile and textile decorations of Francis I during his last visit to Chambord in 1545 and the restitution of the King's room will bring about a spectacular transformation of the visit into a scientific and didactic approach.
To date, no Renaissance textile decoration has been presented on such a scale in France.
This redevelopment was entrusted to Jacques Garcia, decorator and scenographer, renowned for the finesse of his evocations of great historical settings, who has been working for many years as an advisor in major national institutions.